Remote monitoring and management for physical security systems
The Finance & Banking industry has a strong history of continuously innovating and adopting new methods to adjust to ever-changing situations and customer demands. From ATMs to point-of-sale, there are numerous ways that financial institutions need to protect consumers, employees, and financial assets.
As financial institutions grow, their reach expands; therefore, surveillance requirements can span towns, cities, and the globe. It requires a scalable, reliable surveillance platform that can change and innovate with them.
What are Financial Institutions Fighting?
With the significant increase of cyber-attacks on financial institutions, the demand for security has risen. The financial industry has embraced technology to assist in this fight by monitoring their surveillance networks for vulnerabilities.
As banks and other financial institutions contain and safeguard highly sensitive information, they have become large targets for hackers.

One example is Travelex. The London-based currency exchange service reported that it was a victim of Sodinokibi ransomware, also known as REvil and Sodin, on December 31, 2019. All 1,200 Travelex stores, kiosks, and counters in 70 countries around the world had been kicked offline along with several international banks that rely on the service, such as HSBC, Barclays, and Royal Bank of Scotland. According to PayPal CEO Dan Schulman, the average financial services firm faces a billion attempted attacks per year.

Attacks can happen on all sorts of IoT devices as the entry point, to include IP cameras that are part of a large distributed surveillance network.
Trying to Keep Up
Financial institutions have been online for many years now and often have disjointed security systems and platforms. The need for rapid updates to these systems, changes in institution management and ownership, increased demands on the network, security companies going in and out of business, and the institution's age contribute to hodgepodge security solutions with limited integration.
How Razberi Monitor™ Can Help
Uptime Assurance
Razberi Monitor™ predicts and prevents campus security problems while providing a centralized location for IT departments to view the video data. Rather than manually checking each IP camera daily, the software allows security teams to be proactive by preventing service outages with early warning indicators and sending tagged alerts. This allows the security department to develop a plan for the best course of action to maximize uptime assurance. Automatically alerting Campus Security to resolve specific issues is essential in making a security system and its operation resilient.
Management System Integration
Integrate health monitoring software with top third-party video management software (VMS) applications and event management systems. For the IT department, the alert data can be sent to industry-standard tools like Syslog, Splunk, Milestone, and SolarWinds® to provide a more unified workflow and can be utilized within a private network or cloud applications. By integrating a monitoring software platform, the security team can access a more comprehensive array of detailed sensor and system information. The Razberi Monitor™ configurable dashboards provide a quick view of overall system health and cybersecurity posture for both security and IT teams.
Cyberthreat Protection
Razberi Monitor™ provides an essential layer of protection for a best of breed solution by performing continuous checks on system health and cybersecurity. School campuses often find themselves as targets for internal and external hackers and other bad actors. Keeping students and staff information secure is a top priority in education as it is highly sensitive. There is often a lack of technical resources to properly deploy security solutions, and simple dashboards are key to employing automated digital labor to monitor the network.
Physical Security Asset Management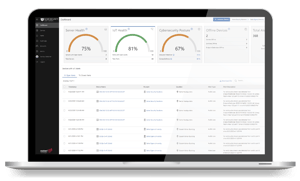 Keeping track of where all the physical security assets are can save time attempting to find and diagnose issues in the field. Razberi Monitor™ tracks security devices by location and provides the security department with deep visibility into configurations, operating systems, and firmware status. All without IT resources!
Problem Resolution
Being proactive in protecting and maintaining the health of a campus security system is key to efficiency. Health monitoring custom reports can be generated on-demand or automatically for asset management and root cause analysis. Filter values can be updated for refining your report by location, device status, alert categories, and date ranges. Razberi Monitor™ also detects cyber posture and problems with servers, cameras, and other IoT devices.
Protecting All Assets
One of the best ways to mitigate security risks on and off-campus is by monitoring the health and resiliency of the physical security system. Protecting that investment is crucial to reducing cost, time-waste, and asset downtime. Knowing where the vulnerabilities are in the system is half the battle. Taking the actionable information, developing a plan, and resolving the issue before it becomes a liability is the process that can be easily built for you and your customer with Razberi Monitor™.