by Mike Taylor - VP of Sales Razberi Technologies
In recent months and continuing into 2020, cyber hygiene has and will be topping the priority lists of many Chief Technology Officers and Chief Information Officers alike. Cyber hygiene is no longer some mystical buzz word, it is a key factor in installing and managing your surveillance systems.
CCTV systems are moving away from being "closed" solutions and integrators are implementing customer networks with IP cameras. With this shift in technology, the importance of cyber hygiene has come into focus for CTO's/CIO's.
As integrators move from analog cameras, DVR's and coax cable, their technical capabilities are in need of a serious upgrade. While many integrators have invested and improved technician knowledge of digital video, they have neglected the need to learn the cyber hygiene practices needed to protect their customer's networks.
Are you receiving the RIGHT guidance toward cyber hygiene?
Many integrators leverage their relationships with VMS companies and camera manufactures for best practice direction. Through suggestions and hardening guides, these manufacturers have attempted to give guidance to integrators. Many of these manufacturers have limited knowledge and truly only focus on their "piece" of the security pie.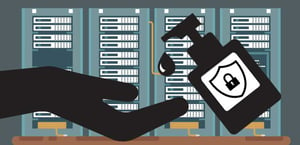 93% of reported incidents could have been avoided with basic cyber hygiene best practices
An Online Trust Alliance study estimated that 93 percent of reported incidents could have been avoided with basic cyber hygiene best practices, a figure that remains largely unchanged in the past decade.
The VMS team does not tell integrators how to harden and secure the hardware or cameras on customer networks. When they do, these are just the basics of cyber hygiene.
Choosing basic cyber protection can mean the difference in avoiding the next cyberattack headline or being one.
Designing for a cyber hardened system
There are many threats that a system designer must consider and forgetting to guard against any one of these could prove problematic for both the customer and the integrator. Should the integrator do solid work protecting the network from hackers gaining entry from remote sites but fail to acknowledge the internal threats to the system, they open the door for issues, loss, and liability.
Cyber hygiene best practices
It's small items that are just not common practice in the security world such as locking down ports on unused switches and servers. If you have an 8-port switch and only use 6 ports, you must lock down the 2 open ports. If not, anyone with access to that switch could just plug into the unused ports and have access to the network and security system.
System management and surveillance of the surveillance system are often overlooked or quite frankly ignored. When you drive your car, you monitor the systems, always scanning your dashboard for problems or issues. System monitoring through health check software is one of the easiest ways to monitor your systems. What happens if all open ports are open, yet someone just removes a camera and plugs in their laptop? If you're not watching, you will likely never know!
Why not protect your investment to ensure that it is working correctly and you are managing the integrity of your system? There is a better approach than to ignore that "check engine" light on the dashboard and hope for the best!
There is a better approach than to ignore that "check engine" light on the dashboard and hope for the best!
Do you want to reduce risk, reduce downtime, and reduce customer service calls and truck rolls?
Implementing cyber hygiene best practices is a starting point to reduce overall costs for these integrators and end-user pain points. The use of a Razberi server and health monitoring software is a great start on the path of improved cyber hygiene!
We offer an intelligent server that is a required part of your surveillance solution, and one that guides technicians through a holistic install process to ensure improved and automated cybersecurity. Additionally, fostering a reduction in liability for our integrators and end-users alike.
Simple cyber hygiene deployment
With a simple installation process, Razberi will walk you through a series of steps making most hardening guides unnecessary and improving the overall cyber hygiene of the system without long and costly cyber training classes.
Once the system is installed and secure, managing that system to keep it running well and to guard against problems means leveraging the Razberi health monitoring software. Knowing you have or even might have an issue allows for the best plan of attack and the fastest possible response. The biggest key to good cyber hygiene is the correct deployment and vigilant monitoring of your system.