Remote monitoring and management for physical security systems
Schools, colleges, and universities are charged with keeping their students and staff safe in heavily trafficked buildings, across multiple campuses, and even online. Surveillance is integral in maintaining campus security. Campus Security has a wide array of responsibilities from campus crowd control for a football game to cybersecuring student and campus staff's personal information.
As schools begin to re-open for another year of learning, virtually or in-person, Campus Security continues their efforts to keep everyone safe and secure. This year will present unique challenges in addition to the usual ones. Are your education industry customers ready?
School Campus Security Struggles
Manual Checks
Schools have limited budgets and resources, but security is a top priority. The school needs to be compliant with various State laws and guidelines. Their security systems are often cobbled together with products from various manufacturers, and do not integrate well, with their existing VMS. As such, Campus Security is often required to manually ensure each security asset is up and running correctly, wasting the staff's precious time.
Complications
The amount of information and disjointed access portals for the full security solution can be frustrating – cameras on one system, alarms on another. Not being able to view the full system wastes time and creates the potential for overlooking issues that may arise due to human error.
Internal Cyberattacks
Student hackers are increasingly becoming more commonplace, unfortunately. As students have a network connection, insatiable inquisitiveness and determination, and an Internet brimming with how-to videos for capitalizing on network vulnerabilities, internal cyberattacks are problematic for video tampering, altering student records, leaking sensitive student data, and also broadcasting school CCTV footage to the internet all from behind a school's firewall.
Location, Location, Location
Physical security assets, such as cameras and badge scanners, are essential to the safety of students and staff alike. They record incidences and restrict access to unauthorized personnel. However, some assets go unaccounted and overlooked; thereby, creating a vulnerability in the campus's armor. Unmonitored assets can also cause pain points by not alerting campus security to hard drive and storage problems.
Sifting Through Information
Many video management systems have pre-existing reports with information assumed to be useful to the majority and do not allow for customization. Without customizing and filtering data, Campus Security could overlook non-operational cameras and IoT devices, which leaves everyone on campus unsafe and the school liable.
How Razberi Monitor™ Can Help
Uptime Assurance
Razberi Monitor™ predicts and prevents campus security problems while providing a centralized location for IT departments to view the video data. Rather than manually checking each IP camera daily, the software allows security teams to be proactive by preventing service outages with early warning indicators and sending tagged alerts. This allows the security department to develop a plan for the best course of action to maximize uptime assurance. Automatically alerting Campus Security to resolve specific issues is essential in making a security system and its operation resilient.
Management System Integration
Integrate health monitoring software with top third-party video management software (VMS) applications and event management systems. For the IT department, the alert data can be sent to industry-standard tools like Syslog, Splunk, Milestone, and SolarWinds® to provide a more unified workflow and can be utilized within a private network or cloud applications. By integrating a monitoring software platform, the security team can access a more comprehensive array of detailed sensor and system information. The Razberi Monitor™ configurable dashboards provide a quick view of overall system health and cybersecurity posture for both security and IT teams.
Cyberthreat Protection
Razberi Monitor™ provides an essential layer of protection for a best of breed solution by performing continuous checks on system health and cybersecurity. School campuses often find themselves as targets for internal and external hackers and other bad actors. Keeping students and staff information secure is a top priority in education as it is highly sensitive. There is often a lack of technical resources to properly deploy security solutions, and simple dashboards are key to employing automated digital labor to monitor the network.
Physical Security Asset Management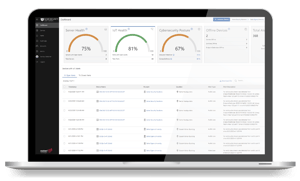 Keeping track of where all the physical security assets are can save time attempting to find and diagnose issues in the field. Razberi Monitor™ tracks security devices by location and provides the security department with deep visibility into configurations, operating systems, and firmware status. All without IT resources!
Problem Resolution
Being proactive in protecting and maintaining the health of a campus security system is key to efficiency. Health monitoring custom reports can be generated on-demand or automatically for asset management and root cause analysis. Filter values can be updated for refining your report by location, device status, alert categories, and date ranges. Razberi Monitor™ also detects cyber posture and problems with servers, cameras, and other IoT devices.
Having a Great School Year
One of the best ways to mitigate security risks on and off-campus is by monitoring the health and resiliency of the physical security system. Protecting that investment is crucial to reducing cost, time-waste, and asset downtime. Knowing where the vulnerabilities are in the system is half the battle. Taking the actionable information, developing a plan, and resolving the issue before it becomes a liability is the process that can be easily built for you and your customer with Razberi Monitor™.