Remote monitoring and management for physical security systems
Video surveillance technology has advanced in powerful ways in recent years. This evolution offers all industries a number of valuable opportunities to remotely monitor surveillance systems with game-changing benefits.
The demand for managing and monitoring security systems remotely is increasing. And with less staff onsite and lack of technical resources to manage multiple sites, the need is now. Cities are becoming smarter, government agencies are becoming more secure, and financial institutions want to be assured their surveillance system is up and running 24/7/365.
Accessibility from anywhere has become crucial when monitoring multiple sites. With businesses moving to a more work from home model, remote monitoring and sharing of alerts to appropriate parties are necessary for around the clock surveillance. A missed event from a downed camera can lead to bigger problems with costly effects.
Unfortunately, solutions on the market can be challenging to deploy and configure. Non-technical security personnel want a simple solution that can be installed quickly, and IT personnel want a centralized data source easily accessible in case of a cyberbreach. And both parties want a solution that does not complicate the video management system's network topography.
Compounding it even further, CEOs are personally being held liable for cyber-physical security incidents. Gartner predicts 75% of CEOs will be liable by 2024.
How Razberi Monitor™ Can Help
Uptime Assurance
Ensure the physical security system is working as expected by monitoring the system's health. This allows for security teams to be proactive by preventing service outages with early warning indicators. If an unmonitored camera dies, it could be days or weeks until security personnel identifies the issue. When all cameras are monitored, the software platform will send a tagged alert to the security department when the camera begins to show signs of failing, allowing the team to prepare a plan for the best course of action to maximize uptime assurance. Razberi Monitor™ predicts and prevents security professionals' problems while providing a centralized location for IT departments to view the system and component status.
Management System Integration
Integrate health monitoring software with top third-party video management software (VMS) applications and event management systems. For the IT department, the alert data can be sent to industry-standard tools like Syslog, Splunk, Milestone, and SolarWinds® to provide a more unified workflow and can be utilized within a private network or cloud applications. By integrating a monitoring software platform, the security team can access a more comprehensive array of detailed sensor and system information. The Razberi Monitor™ configurable dashboards provide a quick overview of system health and cybersecurity posture for security and IT teams.
Cyberthreat Protection
Unfortunately, governments are targets for hackers and other bad actors. The amount of cyber attacks has spiked in recent years. With that in mind, governments need to be prepared to prevent attacks by protecting their vulnerable areas. Razberi Monitor™ provides an essential layer of protection for a best of breed solution by performing continuous checks on system health and cybersecurity. There is often a lack of training or education about deployed security solutions due to budgetary restraints, so automation is key to keeping a network secure.
Physical Security Asset Management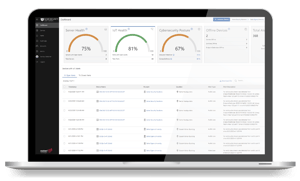 Not knowing where all the physical security assets are located or their statuses can result in time wasted attempting to find and diagnose the asset in the field. Razberi Monitor™ tracks security devices by location and provides the security department with deep visibility into configurations, operating systems, and firmware status. All without IT resources!
Problem Resolution
Being proactive in protecting and maintaining network system with health monitoring software is the key to efficiency. Custom reports can be generated on demand for asset management and root cause analysis. Filter values can be updated for refining your report by location, device status, alert categories, and date ranges. Razberi Monitor™ also detects cyber posture and problems with servers, cameras, and other IoT devices.
Solution Evolution
It is now commonplace for security departments to be asked to solve security challenges that span multiple systems and often various locations. Adding to the difficulty is the challenge of being sure all video surveillance components are operating properly 24/7/365. Fortunately, manufacturers like Razberi are producing products to predict system downtime and prevent cyberthreats at a rapid pace.